5 Color Schemes to Make Your Tropical Teal Coconut Play Couch Stand Out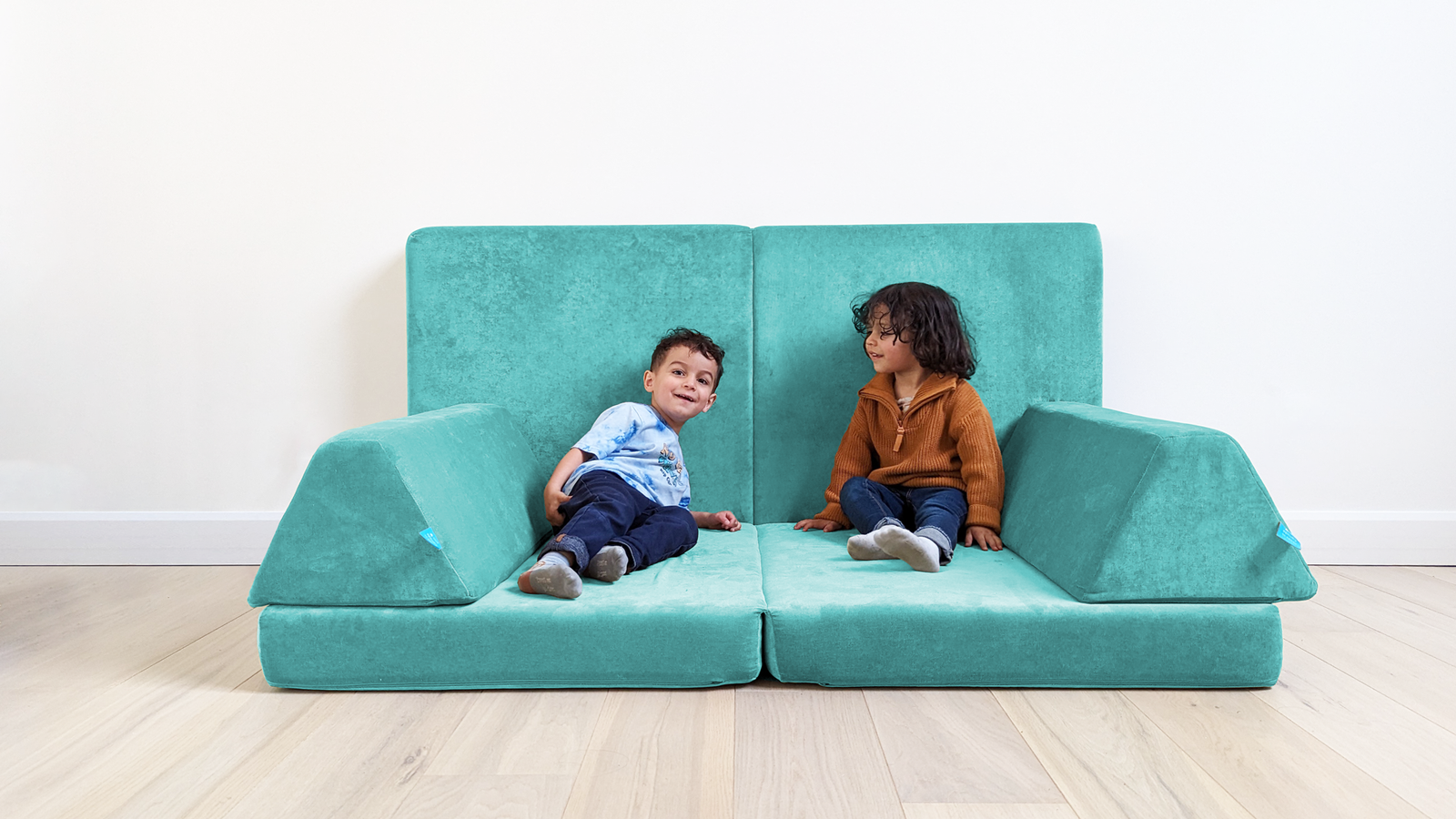 Hey there, colour enthusiasts! Are you looking to make your Tropical Teal Coconut Play Couch shine like never before? Well, you've come to the right place. In this blog post, we'll explore six fantastic colour schemes that will take your play area or living space to the next level. So, let's dive in and get inspired!
We all know that choosing the perfect colours for your play area or living space is like adding a splash of magic to your home. But before we get into that, let's take a moment to underline the importance of ordering fabric samples. Trust us, it's a game-changer. It allows you to accurately gauge colours and textures, helping you make the right decisions. Plus, keep in mind that fabric can change under different lighting conditions, so remember to consider that as well!
Monochromatic Look with Blues
Are you ready to meet the star of the show? Say hello to the magnificent "Tropical Teal"! This vibrant colour is an absolute showstopper. To create a monochromatic look, pair the Tropical Teal Coconut Play Couch with shades like Midnight Tide, River Stone, Moon Melon, or Sea Berry. Trust us, you'll be swimming in a sea of serenity and calmness.
Pop of Color in Neutral Spaces
If you've got a thing for neutrals, we've got just the pairing for you. Picture this: a Tropical Teal Coconut Play Couch as the focal point, surrounded by Rhino Tango, Charcoal Chill, Cotton Cloud, or Sand Dune. It's like a burst of energy in an oasis of tranquility. This combination is guaranteed to create a striking pop of colour that will have your living rooms and bedrooms looking like a dream.
Rainbow Palette for Vibrant Play Areas
Calling all colour lovers! If you want your play area to be a feast for the eyes, get ready for a rainbow explosion. Incorporate multiple vibrant colours like Pitaya Punch, Groovy Grape, Cool Cucumber, Honey Hop, or Papaya Splash. This palette will ignite your little one's imagination and create an energetic atmosphere that's perfect for playtime adventures.
Experimenting with Complementary Colors
Are you feeling adventurous and ready to try something new? Let's talk about complementary colours. When paired with "Tropical Teal," shades like Midnight Tide, Moon Melon, Terracotta Twirl, or Papaya Splash create a unique and harmonious colour scheme. So go ahead, step out of your comfort zone, and let your creativity run wild!
Fun and Playful Candy-Rush-Inspired Theme
For those seeking a bit of whimsy and playfulness, we have just the theme for you. Imagine a candy-rush-inspired colour palette surrounding your Tropical Teal Coconut Play Couch. Vibrant and sweet colours like Pitaya Punch or Honey Hop will add a splash of excitement and joy to any space.
Choosing colours should be a delightful journey, and there are no wrong choices when it comes to expressing your unique style. And remember, "Tropical Teal" is a show-stopping colour that brings vibrancy to any house or play area. So go ahead, have fun with colours, experiment with different combinations, and let your Tropical Teal Coconut Play Couch steal the show!
---